Customize your own private tour of winter attractions in the Nakasendo Kiso Valley: 2 days from Takayama to Matsumoto/Nagano through the Nakasendo Kiso Valley (Winter only)
If you're visiting Takayama during the winter, you might think that the village of Shirakawa-go is your only option in the area, but there is far more to see in the area from the Kiso Valley to Matsumoto. There are historic post towns and plenty of fun to be had in the powdery snow of Nagano. We recommend the route that takes through the Kiso Valley, up through Matsumoto and its magnificent castle, and on to the famous Snow Monkeys. In winter, however, there is almost no public transportation available between Takayama and the Kiso Valley, but a private tour will not only get you to these places you do not want to miss seeing, you can customize the tour to see only what interests you most.
Day 1
Takayama - Kaida Plateau Snow Activity - Shirakawa Ice Pillars - Kiso Fukushima
9:00 Depart Takayama Station / your accommodation
| | | |
| --- | --- | --- |
| | | We will depart Takayama Station or your accommodation at 9 a.m. and head to the Kaida Plateau, which sits at 1000m above sea level and was once a part of the ancient Hida Kaido Trail. |
11:45 Arrive at Kaida Plateau - Snow activities and lunch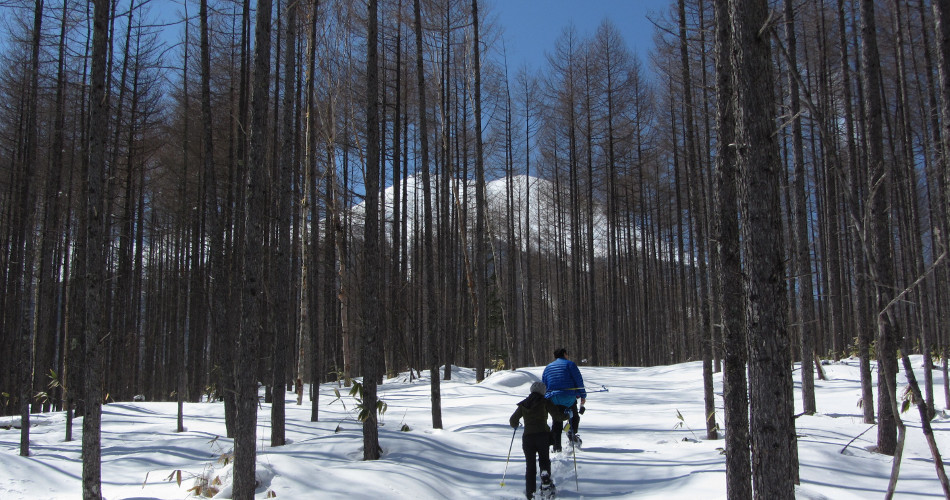 Once we arrive at Kaida Plateau, you can enjoy 2 full hours frolicking in the snow or any number of fun snow activities. There are lunch options at the site that even include making your own soba.
Choose how you want to enjoy the snow from any of the following options:
Option 1 Snow Fun
| | | |
| --- | --- | --- |
| | | Visit one of the ski resorts in the area with an area especially for children and take advantage of the various snow activities offered, such as sledding, tubing, or sliding. Or build your own igloos or snowmen. |
Option 2 Horseback Riding in the Snow
| | | |
| --- | --- | --- |
| | | You may choose to go for a winter horseback ride with a spectacular view of Mt. Ontake at Kisouma-no-Sato. Choose from a guide-led horseback riding experience, a free horseback riding experience, or a horse-drawn cart experience. From mid-January through the end of February, there is also a horse-drawn sled option! You can't get more "wintery" than that! With this option, you can also choose to make your own soba for lunch. |
Option 3 Snowshoe
| | | |
| --- | --- | --- |
| | | At Mia Ski Resorts, try trekking through the powdery snow with snowshoes. The experience can take up to 2 hours and offers beautiful views of Mt. Ontake and the surrounding natural scenery. |
Option 4 Snowmobile
| | | |
| --- | --- | --- |
| | | Another super fun option for enjoying the beautiful, snowy landscape. |
14:45 Depart Kaida Plateau
The next stop will be the Shirakawa Ice Pillars, which is a stretch of mountain wall where the water that usually drips down the face of the mountain has frozen forming spectacularly large icicles, essentially ice pillars, that are sometimes 50 meters in length, and stretch over a breadth of 250 meters. You can also choose to see the ice pillars lit up at night. The figure of these gigantic icicles is awe-inspiring during the day, but at night the spectacle is entrancing and will make you feel as if you have stepped into a magical land or like you are seeing something that only happens in animated movies come to life.
15:30 Arrive at the Shirakawa Ice Pillars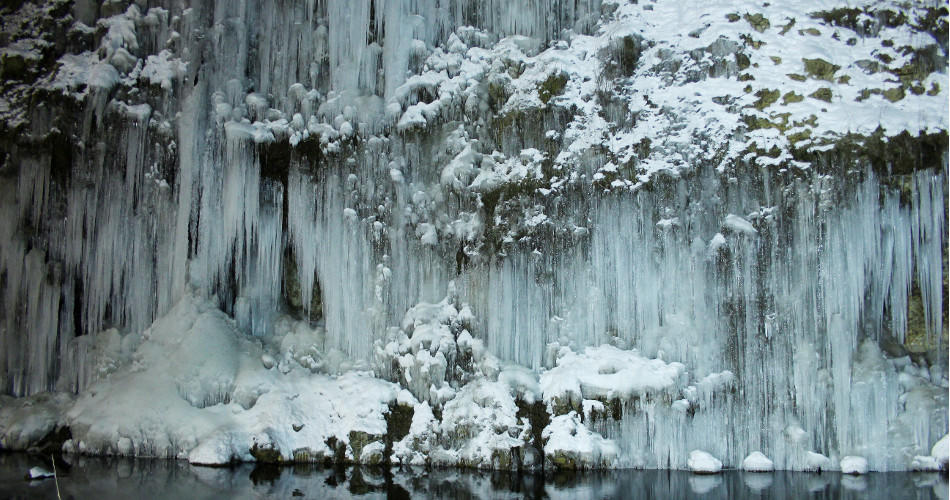 | | | |
| --- | --- | --- |
| | | We'll spend 30 - 45 minutes here taking in the sights of the area. |
16:15 Depart the Shirakawa Ice Pillars
After a long day playing in the snow and viewing the magnificent ice pillars, we will head to our lodging for the evening.
Option 5 "Kisoji" Ice Candle Festival
| | | |
| --- | --- | --- |
| | | The "Kisoji" Ice Candle Festival is held from the end of January through mid-February, and if you are interested in seeing it, you can request a private tour and add the festival as one of the options. |
17:00 - 17:30 Arrive at Kiso Fukushima accommodation
Get a good night's sleep at one of the recommended accommodations in Kiso Fukushima.
Recommended Accommodations in Kiso Fukushima
・Yama Mizuki Urara Tsutaya:
Directly in right front of Kiso Fukushima station
・Iwaya:
Located in central Kiso Fukushima. It is a renovated storehouse with guestrooms available
・Kiso Mikawaya:
Reasonably priced ryokan. Offers an all-you-can-drink soft drink bar at no extra cost! It is a bit far from the station…
Want to do it all? Now you can this tour!
Private Tour of Winter attractions in Nakasendo Kiso Valley

| | |
| --- | --- |
| Period | Dec. 2019 to Mar. 2020 |
| Duration | 2 Days |
| Destination | Kaida Plateau / Shirakawa Ice Pillers / Narai Post Town / Matsumoto Castle |
| Start / End | Takayama City / Matsumoto City or Nagano City |
| Regions | Central Japan |
| Operator | Snow Monkey Resorts |
Day 2
Kiso Fukushima - Narai Post Town - Matsumoto Castle - Nagano Station
8:30 Depart Kiso Fukushima accommodation
After enjoying breakfast at the hotel depart for Narai Post Town.
9:10 Arrive at Narai Post Town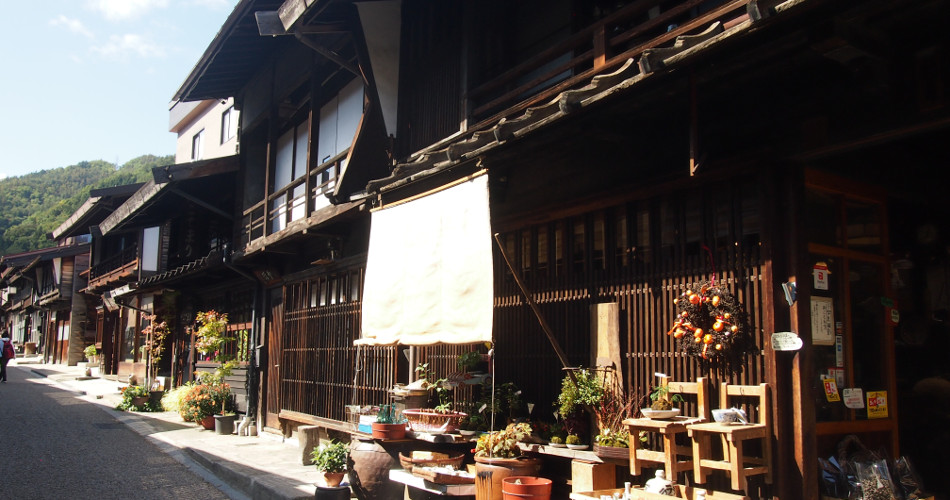 | | | |
| --- | --- | --- |
| | | Narai was once a thriving post town marking the halfway point along the Nakasendo trail connecting Edo (Tokyo) and Kyoto. It looks much the same today as it did back in the Edo period. The town of a "thousand buildings" as it was once called, is lined with a variety of shops and restaurants. Interestingly, this is perhaps the only post town along the ancient Nakasendo Trail that is still actively inhabited. The residents are committed to maintaining its historic appearance and visitors get a real sense of what life was like here 100 hundred or more years ago. |
| | | |
| --- | --- | --- |
| | | Walking up through the town from the station, you'll come upon the Narai-juku Tourist Information Center on your left where you can try your hand at making your own chopsticks! The process takes about 45 minutes from start to finish. The tools are simple to use, but require a little bit of muscle and may be a little too fiddly for anyone younger than 8 or 9. |
11:10 Depart Narai Post Town
Upon leaving Narai Post Town, we will head to Matsumoto to learn about miso manufacturing, eat lunch, and visit the famous castle.
12:20 Arrive at Ishii Miso Brewery
Miso is a paste made from soybeans, and these days it is known throughout the world as a health food as it is high in protein and rich in natural minerals and vitamins. However, it has been a staple in the Japanese diet for centuries. Ishii Miso Brewery still manufactures miso using traditional methods and offers tours in English.

After a short tour of the brewery, enjoy a delicious lunch with miso soup, salad with miso dressing, and miso-flavored rice balls.
13:20 Depart Ishii Miso Brewery
Matsumoto Castle is only a short drive away.
13:25 Arrive at Matsumoto Castle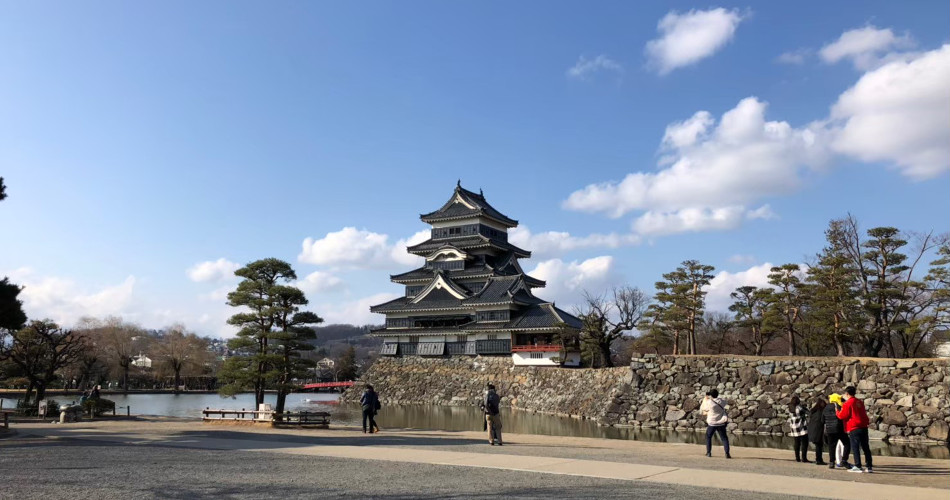 Touted as one of Japan's three premier castles alongside Himeji and Kumamoto Castles, Matsumoto Castle is the oldest castle in Japan with its original structures. The keep (called tenshukaku in Japanese) retains its original wooden interior and exterior stonework from the 16th century and is a designated national treasure. Spend 90 minutes here exploring the castle, taking in its beauty, and getting a feel for its history before setting off for Nagano.
| | | |
| --- | --- | --- |
| | | Matsumoto Castle is sometimes called "Crow Castle" for its black exterior. From the outside it appears to have five tiers, but make sure to look for the hidden sixth tier when you visit! The castle features beautiful wooden floors, but as shoes are not allowed, please remember to wear warm socks as the floors can be quite cold in winter. |
14:55 Depart Matsumoto Castle
16:15 Arrive at Nagano Station or your accommodation
That completes your 2-days of winter fun in the Kiso Valley. Welcome to Nagano! Now that you're here, do not miss your opportunity to see the world-famous Snow Monkeys!
Want to do it all? Now you can this tour!
Private Tour of Winter attractions in Nakasendo Kiso Valley

| | |
| --- | --- |
| Period | Dec. 2019 to Mar. 2020 |
| Duration | 2 Days |
| Destination | Kaida Plateau / Shirakawa Ice Pillers / Narai Post Town / Matsumoto Castle |
| Start / End | Takayama City / Matsumoto City or Nagano City |
| Regions | Central Japan |
| Operator | Snow Monkey Resorts |