Explore Post Towns and Natural Scenery Around Mt. Ontake:
2 days from Nagano/Matsumoto to Takayama through the Nakasendo Kiso Valley
If you need a break after the excitement of Tokyo, the southern portion of Nagano prefecture offers the perfect retreat. And if you've taken in the sites in and around Nagano city and Matsumoto, the south offers the perspective of taking a step back in time to see natural scenery unchanged for centuries.
Day 1
(Nagano) Matsumoto - Narai-juku - Shizenko or Ontake Ropeway - Stay in Kiso Fukushima
06:09 Depart from Nagano / Matsumoto
There are basically two options available for exploring the southern portion of the prefecture - a guided tour or blazing your own trail. If you're not an early riser, the guided tour will probably be your preferred method. But if you prefer the thrill of planning your own itinerary, you'll have to start out early to make the most of your day. Catch the Shinano Ltd. Express from Nagano Station at 6:09 or get on the Shinonoi Line at Matsumoto at 7:49 to Shiojiri. From Shiojiri change to the Chuo Line, which will get you to Narai Station at 8:40 a.m.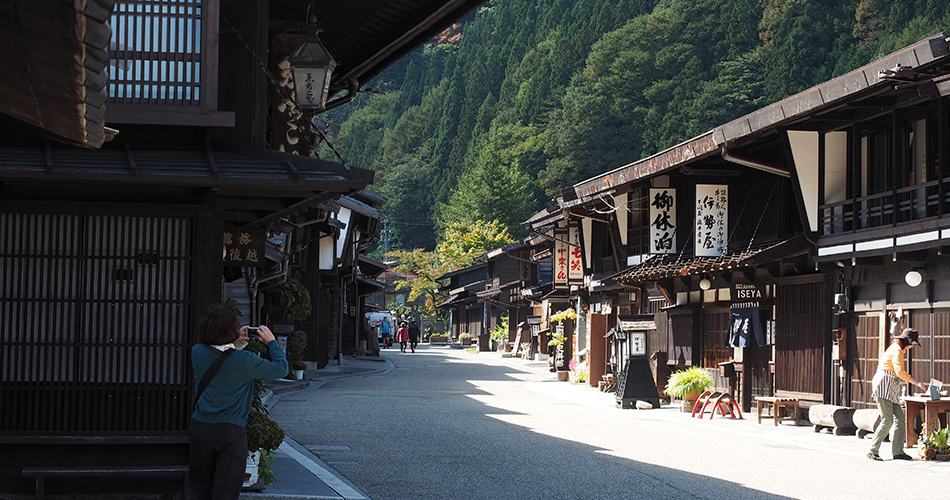 | | | |
| --- | --- | --- |
| | | When you exit the quaint station, you will find yourself at the start of the road that takes you through Narai Juku, (photo) a post town marking the halfway point along the Nakasendo trail connecting Edo (Tokyo) and Kyoto. It looks much the same today as it did back in the Edo period. |
| | | |
| --- | --- | --- |
| The town of a "thousand buildings" as it was once called, is lined with a variety of shops and restaurants. Walking up through the town from the station, you'll come upon the Kamidonya Shiryokan on your left where you can try your hand at making your own chopsticks! Reservations are not required, but calling ahead is recommended. The process takes about 45 minutes from start to finish and costs 1000 yen per person (cash only). The tools are simple to use, but require a little bit of muscle and may be a little too fiddly for anyone younger than 8 or 9. | | |
Once you have your own set of handmade chopsticks, it's time for lunch! In order to leave yourself enough time to explore more of the Kiso area later in the day, I recommend eating lunch early enough to catch the 11:27 train. The area is known for soba and gohei mochi, which is a traditional rice dish grilled with miso. (photo: Gohei mochi with three different types of miso)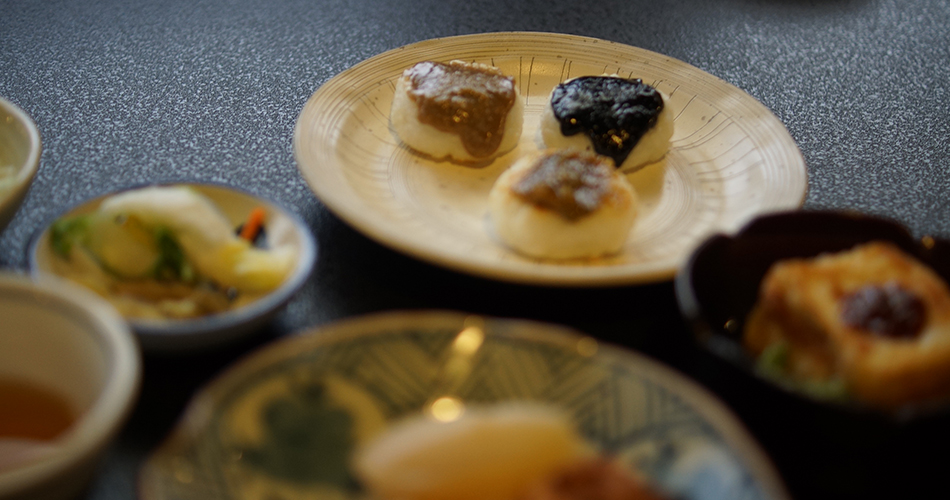 11:27 Depart from Narai
If you have the time and inclination, you can follow the old Nakasendo highway on foot down to the Kiso area. The walk takes about 3 hours to Yabuhara-juku. But if you want to see more with the rest of your day than the natural scenery along the path, the train ride to Kiso-Fukushima takes 20-minutes. Once you arrive you have a few options. If you decided to skip lunch in Narai-juku, there are a few places within walking distance from the station where you can grab lunch. Another option is to tour the Nakazen sake brewery in the area. You can make reservations online in English through their website.
Kiso-Fukushima is also the site of Mt. Ontake, Japan's second largest mountain after Mt. Fuji and revered by many as a power spot. It even has its own religious sect of Shinto, called the Ontake faith. There are some great options for exploring various areas of the mountain.
Option 1: Lake Shizenko (Spring to Autumn)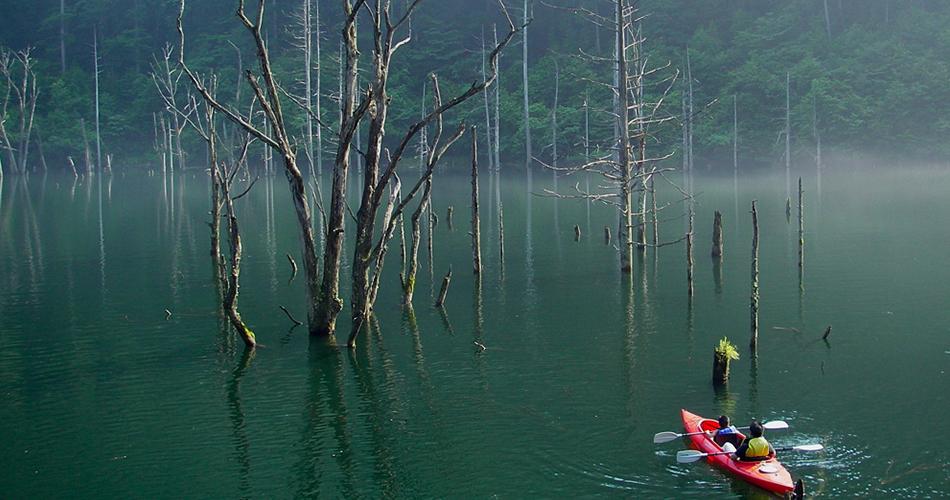 50-minute taxi ride from Kiso-Fukushima Station or take a local bus to Otaki VIllage (¥200), and rent an e-bike at the Kiso Ontake Tourism Office (located on the opposite side of the road from the Otaki bus stop. Takes 1 hr / fare: ¥5000/3 hours or ¥6000/6 hours Website )
| | | |
| --- | --- | --- |
| Lake Shizenko was formed in 1984 as the result of a major earthquake. It was once a forest valley, and now the skeletons of the trees from the forest remain standing above the water's surface giving it an unusual, eerie appearance. There are guided canoe tours of the lake available in English by reservation for an additional cost. Reservations must be made by phone at least three days in advance. The Kiso Ontake Tourism Office can make the reservation on your behalf if you are not Japanese. Adults are ¥6000, children ages 6-12 are ¥4000, and children under 6 are ¥3000. Payable by cash only. It's a bit of a pricey option for bigger groups or families, but definitely a once-in-a-lifetime experience. | | |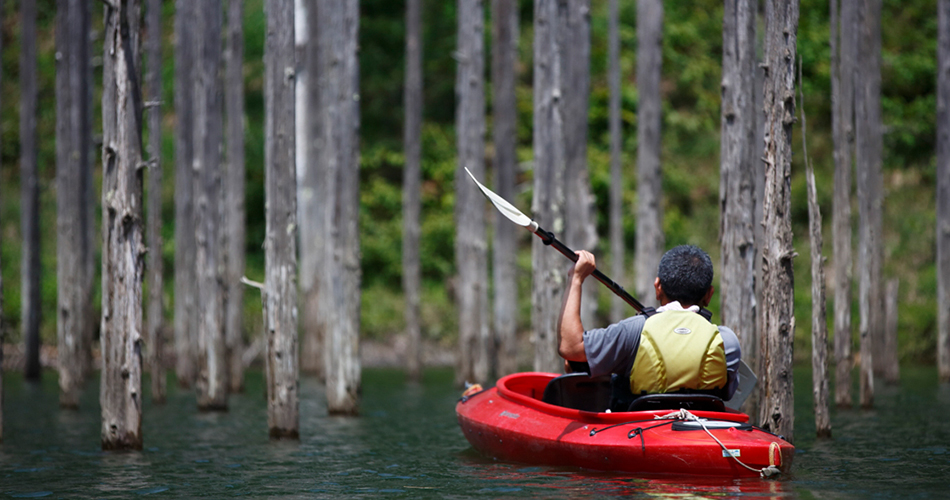 Option2: Mt. Ontake ropeway (Open only from the end of Apr. to the beginning of May and late-June to the beginning of Nov.)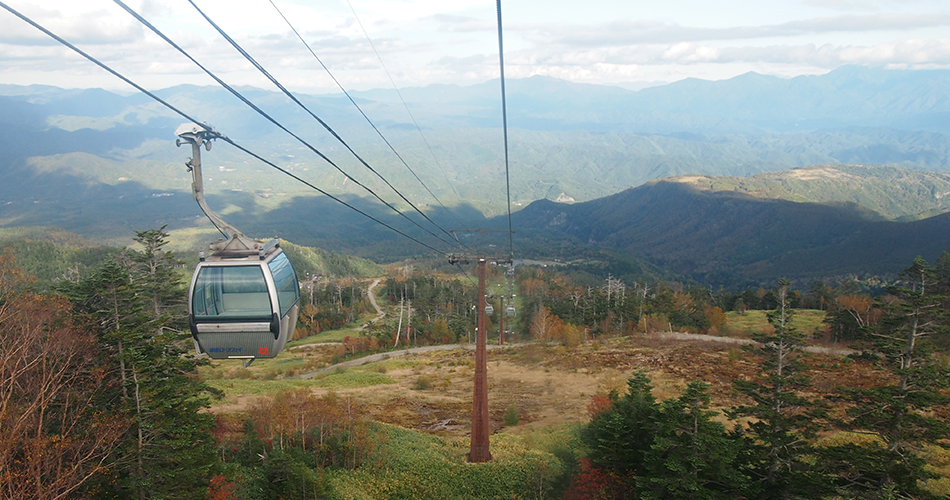 Buses run to the Mt. Ontake ropeway which will take you up to the 7th mountain station, but the last bus to the ropeway departs Kiso-Fukushima station at 1:40 p.m. and takes about 50 minutes. Taking the bus one way costs ¥1500, but I recommend getting a one-day pass for ¥2500 so you can take the bus back down again. The one-day pass can only be purchased at the ticket office outside Kiso-Fukushima station.
| | | |
| --- | --- | --- |
| | | Once you arrive at the ropeway station you can buy a roundtrip ropeway ticket inside the facilities. The ropeway is essentially a ski lift gondola that takes you up what used to be a ski resort. The trip up (and back down) takes about 15 minutes, and the views are breathtakingly spectacular. On a clear day you can see the peak of Mt. Fuji! |
The last bus back to Kiso-Fukushima departs at 4:20 p.m., but that still gives you plenty of time to take in the gorgeous panoramic views and explore the trails at the top of the ropeway. There's a rest house with toilets about a 15-minute walk from the ropeway station. The toilets say they cost ¥100 to use, but payment appears to be made on the honor system.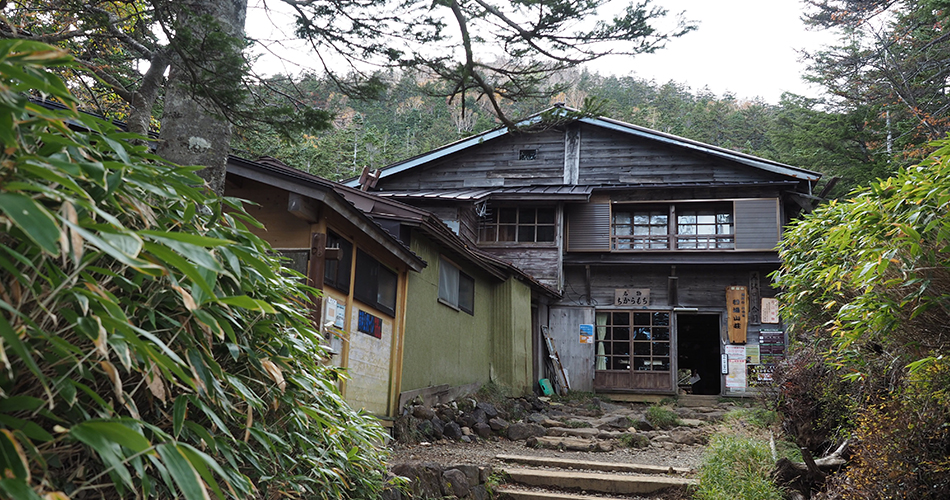 | | | |
| --- | --- | --- |
| | | |
There are also beautiful mountain streams and small waterfalls in the area around the ropeway station.The area is so idyllic, it feels like if you watched closely, you might see a band of fairies playing in the distance.
Once you arrive back at Kiso-Fukushima station, you will definitely be ready to get back to your hotel and rest for the evening. If you're staying in a Japanese-style inn known as a ryokan, it will probably have a large communal bath with medicinal hot spring water to relax your sore muscles after a long day of walking. Most ryokan also serve seasonal dishes in a course meal at dinner, which can be enjoyed along with some locally brewed sake served hot or cold.
Recommended Accommodations in Kiso Fukushima
・Yama Mizuki Urara Tsutaya:
Directly in right front of Kiso Fukushima station
・Iwaya:
Located in central Kiso Fukushima. It is a renovated storehouse with guestrooms available
・Kiso Mikawaya:
Reasonably priced ryokan. Offers an all-you-can-drink soft drink bar at no extra cost! It is a bit far from the station…
Want to do it all? Now you can this tour!
2 days from Nagano/Matsumoto to Takayama through the Nakasendo Kiso Valley

| | |
| --- | --- |
| Period | Dec. 2019 to Mar. 2020 |
| Duration | 2 Days |
| Destination | Narai Post Town / Ontake Ropeway or Lake Shizenko / Magome Post Town / Tsumago Post Town |
| Start / End | Nagano City / Takayama City |
| Regions | Central Japan |
| Operator | Snow Monkey Resorts |
Day 2
From Kiso-Fukushima through the Nakasendo Trail (Magome to Tsumago) to Takayama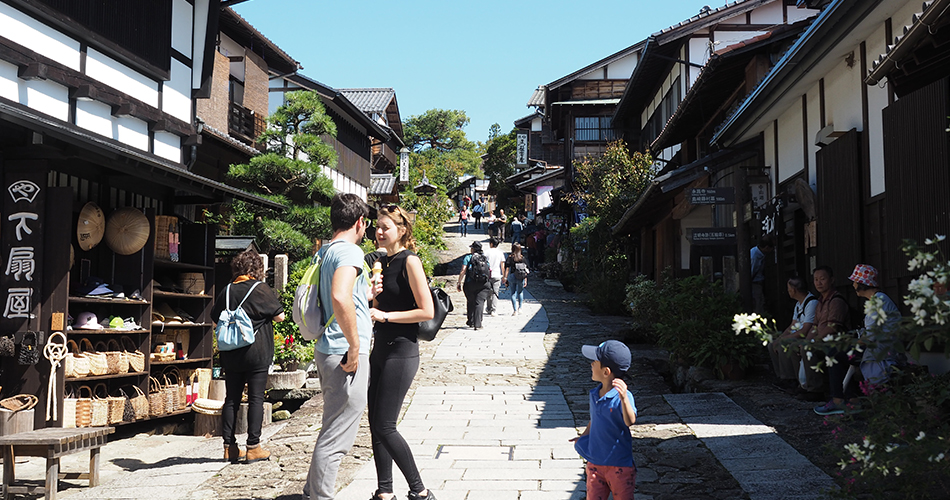 Due to the timing of the buses, day 2 is another early start if you are doing this trip on your own and not on a guided tour.
6:34 Depart from Kiso Fukushima
Take the 6:34 train from Kiso-Fukushima to Nakatsugawa Station, arriving at 7:31. From Nakatsugawa Station, your best bet is to take a taxi to Magome-juku, another post town along the Nakasendo Trail. You can also take a local bus, but the first bus leaves Nakatsugawa station at 8:10, which means you won't have much time in Tsumago before leaving for Takayama.
8:00 Arrive at Magome
Taking a taxi, you'll arrive in Magome at about 8:00 and you'll have approximately 30 minutes to explore the small town. The walk along the Nakasendo Trail to Tsumago Post Town takes about 2.5 hours, and it is mostly down a gentle slope, which is why most people prefer to walk Magome to Tsumago as opposed to the other direction.
11:00 Arrive at Tsumago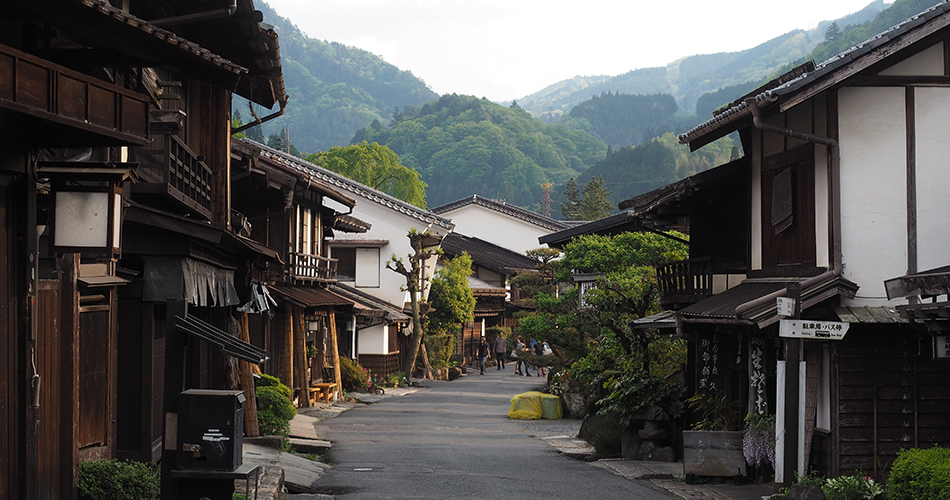 | | | |
| --- | --- | --- |
| | | Leaving Magome at 8:30 a.m. will get you to Tsumago at 11:00, where you will have an hour and a half to walk around and take in the sights. Every effort has been made to restore the town to its original appearance, and even the electric and phone lines have been concealed so as not to interfere with the scenery. |
Depart Tsumago at 11:54 by bus to arrive at Nagiso Station at 12:03. The train back to Kiso-Fukushima leaves at 12:19 and arrives in Kiso-Fukushima at 1:02 p.m. where you can take time to have a leisurely lunch or tour the sake brewery if you were unable to fit that in the day before.
Depart to Takayama
If you plan your visit during the autumnal changing leaves season, there is a bus that will take you from Kiso-Fukushima to Takayama. Adults are ¥2500 and children ¥1250. Otherwise group taxis are available (only in Japanese / from Apr. to Nov.), or you can book a guided tour. Expect the trip from Kiso-Fukushima to Takayama to take approximately two hours.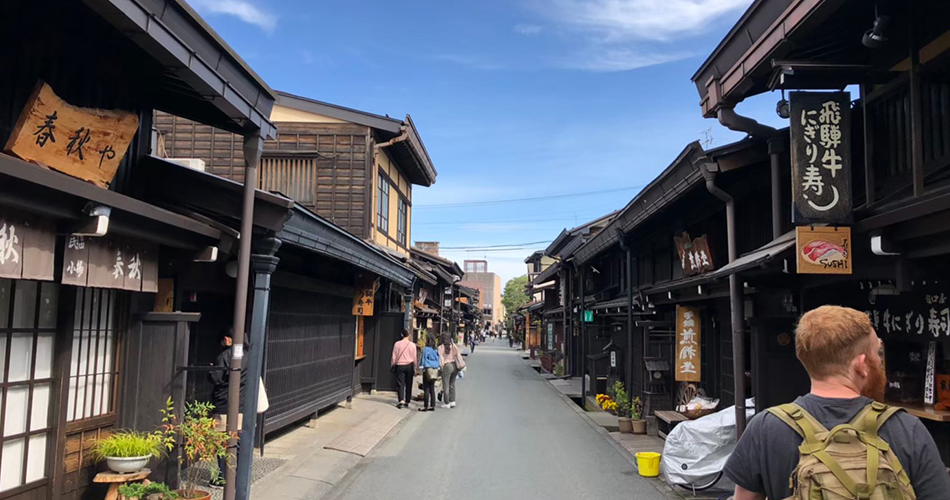 Want to do it all? Now you can this tour!
2 days from Nagano/Matsumoto to Takayama through the Nakasendo Kiso Valley

| | |
| --- | --- |
| Period | Dec. 2019 to Mar. 2020 |
| Duration | 2 Days |
| Destination | Narai Post Town / Ontake Ropeway or Lake Shizenko / Magome Post Town / Tsumago Post Town |
| Start / End | Nagano City / Takayama City |
| Regions | Central Japan |
| Operator | Snow Monkey Resorts |