Traveling the Kisoji
What's Kisoji?

---
In the Kiso area in southwestern Nagano Prefecture, the sacred mountain Mt. Ontake lies to the west and the magnificent Central Alps stand aloft to the east of the deep valley carved out by the Kiso River and the Kisoji section of Nakasendo.
The numerous overlapping mountains nurture the forests and water and remind us of Japan's original landscape, inheriting the profound history and unique culture and traditions.
After climbing steep passes, walking in deep valleys, travelers must have been I relieved to reach post towns and thankful to rest their tired bodies at an inn.
The roads are not stylish, but warm.
You can still feel the travelers'emotions in the past as you walk on these roads stretching far.

The Nakasendo and Kisoji Trails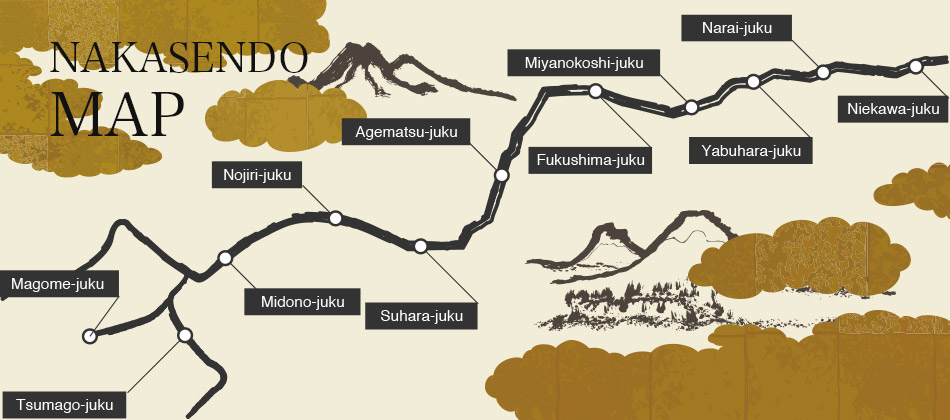 During the Edo Period, when the center of government moved from Kyoto to Edo (now Tokyo), five major roads were built to connect the new capital and the far reaches of Japan. Among them was the Nakasendo, a mountainous route through the center of the country. Connecting Kyoto and Edo, it spanned over 526 kilometers in length. On foot, the journey would take anywhere from 16 to 25 days.

Sixty-nine post towns were established at strategic points along the Nakasendo to support travelers, eleven of which are located in the Kiso Valley. This section of the trail is also referred to as "the Kisoji." Surrounded by the steep mountains of the central Japanese Alps on one side and Mt. Ontake on the other, this secluded valley is steeped in history and nature.

Due to the remoteness and difficult terrain of the Kiso Valley, many of the post towns here avoided overdevelopment and modernization, so you can see them as they would have looked hundreds of years ago. Some of the most famous post towns here include Magome, Tsumago, and Narai. But there's plenty more to see in Kiso, from its other eight post towns to crystal clear rivers, forests and mountains.

Enjoy every step·of your journey appreciating beautiful landscapes.
Plan Your Trip
Post towns