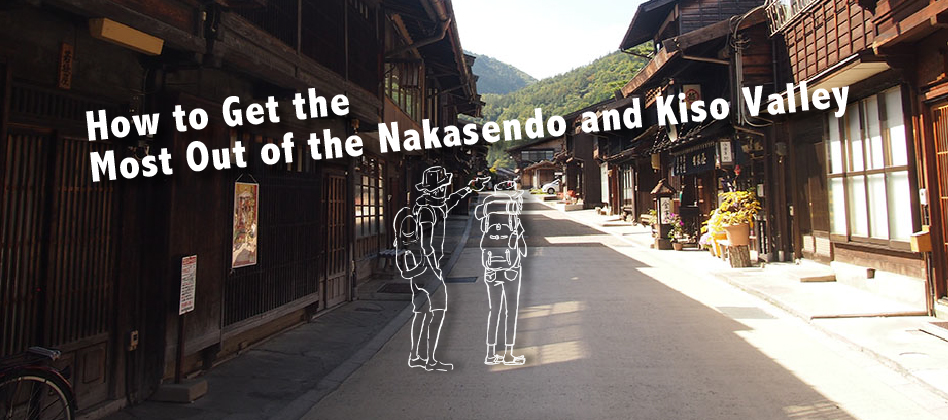 How to Get the Most Out of the Nakasendo and Kiso Valley
Welcome to the Kiso Valley! If you are planning a visit here as part of your trip to Japan, what a trip you are in for! Did you ever wish you had a time machine? Wish no more! Just get on the train in Tokyo or Nagoya and when you step off in Kiso Valley area (called "Kisoji" in Japanese, meaning Kiso Road), you will find yourself surrounded by natural scenery that has largely remained the same for thousands of years. If you want to see the heart of Japan, you have found it. Prepare yourself to be inspired with awe and appreciation for Mother Nature and her untouched wonders.
Recommended Itineraries!
I recommend choosing one of the following 4 itineraries to get the very most out of your trip to "Kisoji".
1. Explore Post Towns and Natural Scenery Around Mt. Ontake
2 days from Nagano/Matsumoto to Takayama through the Nakasendo Kiso Valley
This itinerary takes you to Narai-juku and then on to Mt. Ontake for some canoeing or a scenic trip up the ropeway. Stay at a ryokan in Kiso before starting out the next day for Magome-juku and walking the trail to Tsumago. There's also a sake brewery near Kiso Fukushima Station that offers tours in English for you to visit before heading on to your next destination.
2. Castle and Scenic Forest/Gorge and Post Towns
| | | |
| --- | --- | --- |
| | | Start off at Matsumoto Castle and then travel south through Narai-juku before stopping off in Kiso Fukushima for the night. The next day visit Nezamenotoko and prepare to have your socks knocked off by its larger-than-life boulders and the charming fabled history surrounding the spot. Then head either to Kakizore Gorge to do some climbing through the forest to see some jaw-dropping waterfalls, or to Akasawa Forest where you can learn more about the history of the forestry industry in the area while absorbing the healing powers surrounding you on the trail. Finally visit Tsumago-juku and walk the trail to Magome. |
3. Enjoy the snow in the Nakasendo and Kiso Valley area with the tour from Takayama!
Day 1 starts off departing from Takayama for two hours of snow activities at one of the resorts in the Kaida Plateau before heading out to see the Shirakawa Ice Pilars. Spend the night in Kiso Fukushima. The next day start traveling northward to Narai-juku followed by a tour of a Ishii Miso Brewery. The last attraction of the day is Matsumoto Castle before finally heading to Nagano.

The "Kisoji" Ice Candle Festival is held from the end of January through mid-February, and if you are interested in seeing it, you can request a private tour and add the festival as one of the options.
4. The dream itinerary for Instagrammers
| | | |
| --- | --- | --- |
| | | Start day 1 in Nagano or Matsumoto, head down to Yabuhara and walk part of the ancient Nakasendo Trail that will take you to Narai-juku where you can make your own chopsticks. Spend the night in Kiso Fukushima and on day 2, take a ride on the Mt. Ontake ropeway followed by a short ride on the historic train in Akasawa Forest and walking the invigorating nature trails. Before the forest, you'll probably have time to visit the massive boulders in the sparkling, translucent blue river at Nezame-no-toko, which are certain to fascinate your followers. Spend the night in Kiso Fukushima again before heading out to Kakizore Gorge on day 3 and getting some selfies with the emerald green water. The next stop is Tsumago-juku and a hike along the scenic Nakasendo Trail to the next post town, Magome-juku. |
Gateways to the Kiso Valley (Access) for those who prefer to do their own planning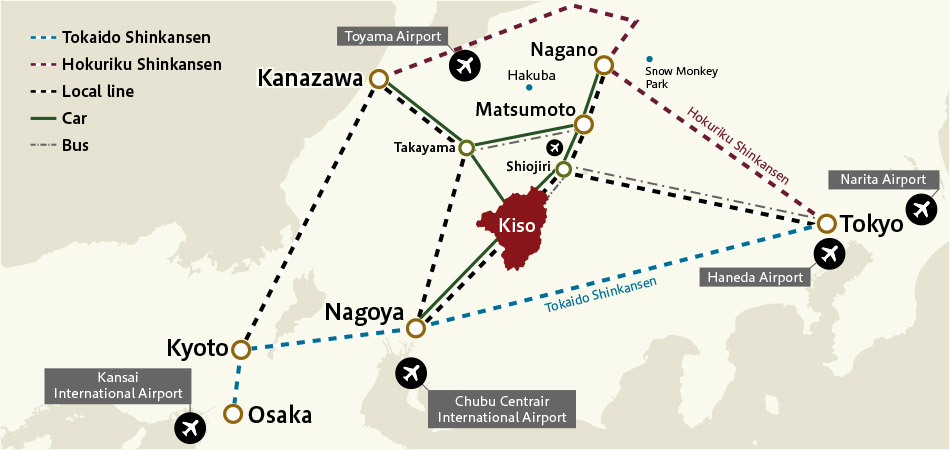 | | | |
| --- | --- | --- |
| | | One of the main reasons the Kiso Valley remains a well-kept secret is for its out-of-the-way location. It cannot be reached by any direct lines from Tokyo, though it can be reached on direct train lines from Nagano, Matsumoto, or Nagoya |
From Tokyo
There are three options from Tokyo. If you prefer to explore the northern part of Nagano prefecture first, you'll want to travel through Nagano Station. If you want to go straight to the Kiso Valley or stop through central Nagano and visit Matsumoto first, take the second option.
Option 1 Tokyo - Nagano
| | | |
| --- | --- | --- |
| | | The shinkansen will take you directly to Nagano Station. From Nagano Station, you can take the JR Limited Express Shinano directly to Kiso Fukushima or you can change trains at Shiojiri to the Chuo Line, get off at Narai Station and spend some time exploring post towns such as Narai-juku, Yabuhara-juku, and Miyanokoshi-juku before continuing south. |
Option 2 Tokyo - Matsumoto/Shiojiri
| | | |
| --- | --- | --- |
| | | Take the Limited Express Azusa from Shinjuku Station in Tokyo to Matsumoto,where you can spend some time seeing Matsumoto Castle and the other attractions Matsumoto has to offer. You can also get off a stop earlier at Shiojiri, where you can immediately change to the Chuo Line and as above, explore Narai-juku Post Town on the way, or just continue straight down to Kiso Fukushima on the Limited Express Shinano. |
From Nagoya
Nagoya - Nakatsugawa
| | | |
| --- | --- | --- |
| You can take the Limited Express Shinano from Nagoya Station to Nakatsugawa Station, which is a small town on the Nakasendo Highway worthy of exploring. From here take a bus to Magome Post Town about 30 minutes away, and you can walk the scenic Nakasendo Trail (2.5-3 hours) to Tsumago Post Town. | | |
From Takayama
Takayama-Kiso Fukushima
Traveling during the season of beautiful autumn leaves? From There is a bus that will take you directly from Takayama to Kiso Fukushima. See here.

The same company also offers a bus between Takayama, Magome, and Tsumago between April and the end of November.
What to do and see in the Kiso Valley: Culture and Nature (and worshipping mountains)
The Kiso Valley
The Kiso Valley is home to a portion of the ancient Nakasendo Highway that has been well-preserved by local governments and communities offering a glimpse into what life was like in the Edo period. In addition, there are awe-inspiring waterfalls, rivers, gorges, and mountain trails scattered throughout the area to dazzle your eyes and soothe your soul.
What to see
| | | |
| --- | --- | --- |
| | | The post towns are probably one of the biggest attractions in the area. They sit along the ancient Nakasendo Trail, which is the road that connected Tokyo, or Edo, as it was once called, to Kyoto. Great care has been taken to preserve and restore them to appear as they did back in the time before cars and trains. Narai is the first one you'll encounter heading south. Narai is unique in that people still live in the houses that line the post town. Tsumago is another well-preserved post town and the last before the trail leads into Gifu Prefecture. It takes about 3 - 3.5 hours to walk from Tsumago to Magome Post Towns, another well-preserved post town and the first on the Gifu side. |
| | | |
| --- | --- | --- |
| | | When you visit the Kiso area, you can't help but notice the thriving forestry industry. The valley is known for the quality of its lumber. At one time during the Edo period the samurai class put so much value on it, it was forbidden for common people to cut down the trees that were saved for usage at places such as Ise Jingu Shrine and samurai estates. Walking through the forest, or forest bathing, is a great way to relax and refresh during your travels. The Akasawa Forest has trails expressly for this purpose and is home to a gorgeous natural forest therapy center. |
You can't visit Kiso without taking notice of the fact that you are completely surrounded by mountains and magnificent natural scenery from all directions, wherever you go. One of the highlights is Japan's second highest volcano, Mt. Ontake. There is plenty to do on and around Mt. Ontake, but of particular note is the fact that there is an entire Shinto sect based on the worship of Mt. Ontake called the Ontake faith. Its main tenet is that humans can coexist peacefully with nature.
Not far away, you can also find Atera Gorge and its radiant, emerald green water and nearby Kakizore Gorge, which is comparable in splendor and beauty.
Useful Travel Tools
Map and Reference Materials to Help You Plan Your Trip
| | | |
| --- | --- | --- |
| | | This is a great map showing the lay of the land and where you can find everything you'll want to see. |
| | | |
| --- | --- | --- |
| | | This is a wonderful map for walking the Nakasendo Trail. Whether you do the hike or not, it is a fantastic resource to check out. |