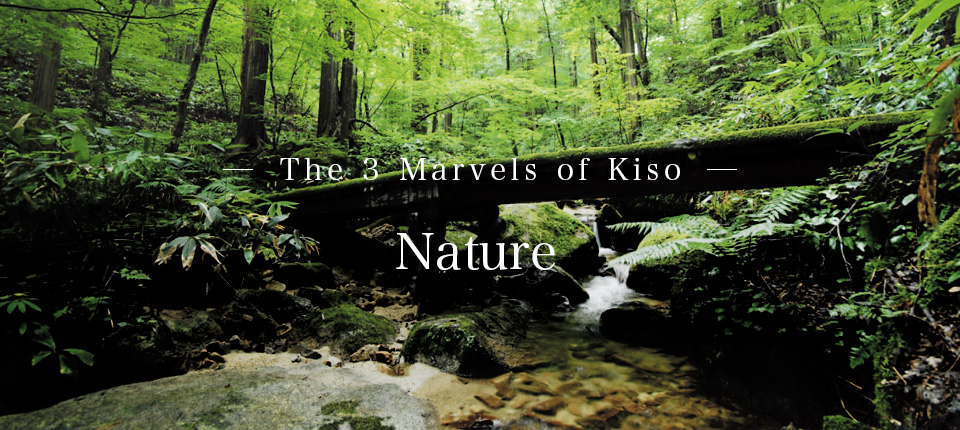 From Spring to Summer
Mt. Ontake
| | | |
| --- | --- | --- |
| | It is 3067 meters in height and is an active smoking volcano. It is a mountain that has been awe-inspiring for believers in it as a religious mountain along with Mt. Fuji and Mt. Tateyama. Ascetics in dressed in white visit it to pray. You can experience the mystic world blending nature and history while walking on the trail to Mt. Ontake. | |
| | |
| --- | --- |
| You will also be drawn to a waterfall located along the Mt. Ontake trail that extends from Otaki village to Tanohara Nature Park, which is a famous place to perform cold water ablutions. | |
Akasawa Shizen Kyuyourin Park (The home of 'Forest Therapy')



Akasawa Shizen Kyuyourin Park (Akasawa Birin), having natural forest lands with Kiso Cypress's of more than 300 years old, is the birthplace of the idea of 'forest bathing' in Japan. It was designated as one of the 100 best scenic locations with pleasant scent in 2001 by the Ministry of Environment and as a base of forest therapy by the Forestry Agency in 2006.




Various kinds of broad leaved trees are found throughout the area and they change in appearance with the change of season. Phytoncides (an antimicrobial scent) emitted from natural Kiso Cypress nurses your soul and gives you vitality. Many mountain streams run along its walking trails so that you can enjoy a refreshing and pleasant walk.
It has special forest atmosphere that positively affects eyesight, hearing and the sense of smell simultaneously. Accommodation programs to take advantage of these effects are provided by a cooperative program between Nagano Prefecture and Kiso hospital.




"Doctor in Forest" and "Forest therapy medical checkups" are specific examples. "Doctor in forest" is a health consultation offered by doctors and health nurses for free at the Akasawa Shizen Kyuyourin park. "Forest therapy medical checkups" are an enduring program combining a health checkup and forest strolling.  




| | |
| --- | --- |
| Name | Akasawa Natural Recreational Forest |
| Location | Akasawa, Agematsu |

 



Mizukisawa Native Forests



These are natural forests spreading throughout Mizukisawa the area at the headwaters of the Kiso river having a combined area of 82 hectares.




There are different kinds of trees both coniferous and broad-leaved including more than 200 year-old Kiso Cypresses'. In particular, you will be impressed by a gigantic Sawara Cypress, which is more than 550 years old and 2.5 meters in diameter. A wood chip covered path extends about 3 kilometers through these natural forests so that everybody can enjoy casual trekking. Tokonami Waterfall, made accessible in June of 2008, with a drop of about 20 meters in a staircase pattern, is also a sight to see.
It was elected as one of "The 100 best water features of the Heisei period" on June 25, 2008. The Ministry of the Environment has aimed at promoting water preservation to commemorate the Hokkaido Toyako Summit in July of 2008. The recognition was a product of residents of the area having acted in unity to preserve the region's forests abundant and rich nature. The regions astonishing scenery and accessible water ways are also highly commendable.




There is an unprecedented ecology boom at present; however, Kiso village was watching over and preserving its precious natural environment even before the word "eco" took root. 

 



Kaida Plateau
There are about 50 Kiso horses on the Kaida Plateau.




Kiso horses are raised in the area centered in the Kiso region (Kiso District). The Kiso horse is a horse species native to Nagano Japan. It faces the danger of becoming extinct; however, the number has been steadily recovering thanks to preservation activities.
Snowy buckwheat flowers bloom all over with Mt. Ontake in the background. It is the scenery that you can see only on the Kaida Plateau.




| | |
| --- | --- |
| Name | Kaida Highlands |
| Location | Kaida Kogen, Kiso, Kiso-gun Nagano |
Nezame no Toko
You can see the magnificent scenery from your train window as you pass by. Writers and poets in the old days who visited the Nakasendo often recorded it in their writings and verse handing it down as a national treasure to us today.




The present visible shape appeared as a result of lowered water levels following the building of a hydroelectric power station. Its exquisite color scheme is created by the contrasting huge white granite rocks and the emerald green of the river.




Urashima-do hall was built at the center of the huge rock. It is said that Urashima Taro enshrined the Sarasvati there. You can make your way to it on foot.




| | |
| --- | --- |
| Name | Nezamenotoko Gorge |
| Location | 1704 Agematsu, Agematsu, Kiso-gun, Nagano |
Okukiso Lake (Misokawa Dam)



It is designed to perform multiple functions such as adjusting the water flow rate




of the river, providing a reservoir of water for normal daily domestic use for people living in the lower reaches of the river, and also securing industrial water supplies for Aichi Prefecture, and finally generating electricity. It is a multipurpose dam located at the highest point (1130 meters) in the country. There are walking tracks, the Okukiso bridge, an observatory, a park and the "

Kiso River Fureai Museum

"around Okukiso lake which was produced by the beautiful Rock-fill type dam so that all can enjoy visiting.





| | |
| --- | --- |
| Name | Lake Okugiso |
| Location | Ogiso, Kiso, Kiso-gun, Nagano (Misogawa Dam) |
From Autumn to Winter
Atera Valley



It is a radiant and beautiful valley adjoining the Kiso river valley.




Stones on the riverbed are white so that its water shines an emerald green.




Verdant fresh green seems to be penetrating into the water.




You can see the especially beautiful scenery particularly during seasons when leaves and foliage remain.





| | |
| --- | --- |
| Name | Lake Okugiso |
| Location | Ogiso, Kiso, Kiso-gun, Nagano (Misogawa Dam) |
Kakizore Valley
It runs about 8 kilometers covering a variety of landscapes - falls, rapids, etc.




People generally walk the 4.5 kilometer nature trail from Jyunikane station to Ushigataki. In case you want to enter directly the back forest road can be used.




| | |
| --- | --- |
| Name | Kakizore Gorge |
| Location | Nagiso, Kiso-gun, Nagano |
Shirakawa Ice Pillars



These appear during the winter season.




Clear water from Mt. Ontake running down over the rock face freezes in the bitter cold creating many pillars like icicles; a great artwork of nature that you will be really overwhelmed by.




These are illuminated at night creating a more mystic type of scenery.




| | |
| --- | --- |
| Name | Shirakawa Ice Pillars |
| Location | Mitake Ihara, Kiso, Kiso-gun, Nagano (next to Osaka Hot Springs Keyakinoyu) |
Flowers & Trees
Cherry Blossoms (Sakura) (From early April to Mid April)
Weeping Cherry Tree of Tanoue Kannon-doh (Natural treasure of Kiso village)
| | |
| --- | --- |
| | This tree can be found inside the grounds of the Tanoue Kannon-doh temple, which you will find on your way to the Okukiso lake (Misokawa dam). The trees variety is Edohigan, however, differs from the ordinary cherry tree as its slim branches grow downward, thus "weeping". It grows well and is the largest tree in the village. It is estimated to be several hundred-years old. Cherry trees are in full blossom between the end of April and the beginning of May and in combination with the background of the temple's thatched roof it is a magnificent sight. |
Cherry blossom tree of Suge no Jyuo-doh (Natural treasure of Kiso village)
| | |
| --- | --- |
| | The tree's large boughs spread out over the temple and village road on the bank side in front of Jyuo-do temple. There are some dead branches so giving it the appearance of a well aged old tree. It's blooming season precedes all the other cherry trees in spring and produces a spectacular array of rose pink flowers spreading and reaching up to the sky. |
Cherry blossom tree of Tokuonji
| | |
| --- | --- |
| | It is a family temple for Yoshinaka Kiso and Kiso clan. Cherry trees are planted on both sides of the temple entrance. Guardians for the community and cherry trees in full bloom are perfect for a picture. |
A row of cherry blossom trees of Miyanokoshi Post Town
| | |
| --- | --- |
| | These trees have been nurtured and cared for by the local people. You can enjoy the beauty of this row of cherry blossom trees as they bloom each year. |
Rhododendrons of Tenpaku Park (Late April)
| | |
| --- | --- |
| | Six kinds of Rhododendron Dilatatum grow gregariously. Late April is the time to see them in full bloom when the entire area turns red with more than 400 bushes of flowers. |
Buckwheat Flowers (Kaida Plateau)
| | |
| --- | --- |
| | Sparkling white buckwheat (Soba) flowers bloom in fields with Mt. Ontake in the background. It is a scene that you can see only on the Kaida Plateau. |
| | |
| --- | --- |
| Forget-me-nots | Lysichiton Camtschatcense |
Okuwa village's flower, the Rhododendron subgenus Hymenanthes
| | | |
| --- | --- | --- |
| | Floral buds appearing at the end of summer having endured a harsh winter then bloom into spectacular rose pink flowers. They are elegant in contrast to the deep green of its leaves which match with the clean water and the valley. They are also famous as garden flowers. | |